Mausoleum of Han Dynasty emperor found in China's Shaanxi******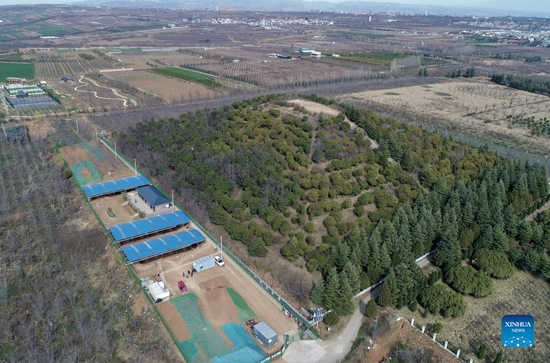 Aerial photo taken on March 14, 2019 shows the excavation site of the mausoleum of Empress Dowager Bo, mother of Emperor Wendi of the Western Han Dynasty (202 BC-AD 25), in Jiangcun Village on the eastern outskirts of Xi'an, northwest China's Shaanxi Province. A large-scale mausoleum in Xi'an has been identified as belonging to Emperor Wendi of the Western Han Dynasty, local authorities said Tuesday. (Xinhua)。
XI'AN, Dec. 14 (Xinhua) -- A large-scale mausoleum in Xi'an, capital of northwest China's Shaanxi Province, has been identified as belonging to Emperor Wendi of the Western Han Dynasty (202 BC-AD 25), local authorities said Tuesday.。
The mausoleum, located in Jiangcun Village on the eastern outskirts of Xi'an, is surrounded by more than 100 ancient tombs and outer burial pits. Excavation has been carried out in the area since 2017, with numerous relics unearthed including dressed pottery figurines, crossbows, and official seals.。
The mausoleum has no grave mound, and there are four ramps leading to the entrance of the burial chamber placed 2 to 4.5 meters underground. The chamber, with its base 27 to 30 meters below the ground, is 74.5 meters long and 71.5 meters wide.。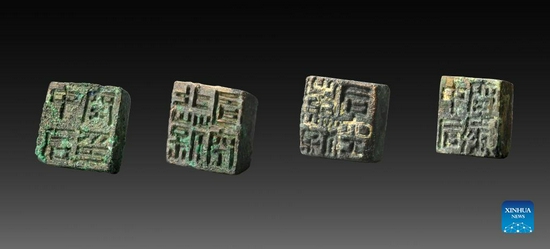 Photo taken on May 7, 2020 shows seals unearthed at the mausoleum located in Jiangcun Village on the eastern outskirts of Xi'an, northwest China's Shaanxi Province. A large-scale mausoleum in Xi'an has been identified as belonging to Emperor Wendi of the Western Han Dynasty, local authorities said Tuesday. (Xinhua)。
The mausoleum is similar to those of the other two Western Han Dynasty emperors in terms of structure and scale, with traces of historical evolutions, said Ma Yongying, a researcher with Shaanxi Academy of Archaeology, adding that historical documents also support the archaeologists' claims.。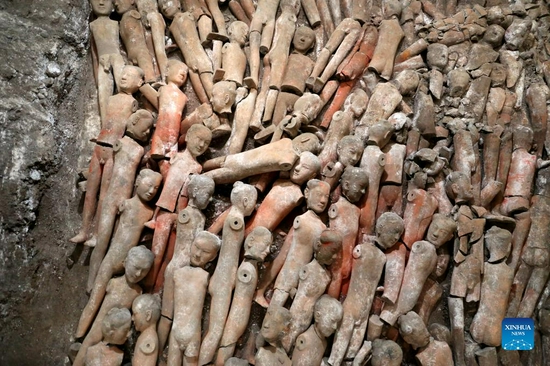 Photo taken on Oct. 8, 2021 shows pottery figurines unearthed from the mausoleum located in Jiangcun Village on the eastern outskirts of Xi'an, northwest China's Shaanxi Province. A large-scale mausoleum in Xi'an has been identified as belonging to Emperor Wendi of the Western Han Dynasty, local authorities said Tuesday. (Xinhua)。
Rumors had it that Emperor Wendi's tomb is situated in a nearby location called Fenghuangzui, just north of Jiangcun Village.。
The discovery of the mausoleum puts an end to this long-running rumor which emerged due to the discovery of an ancient stone tablet with inscriptions in Fenghuangzui.。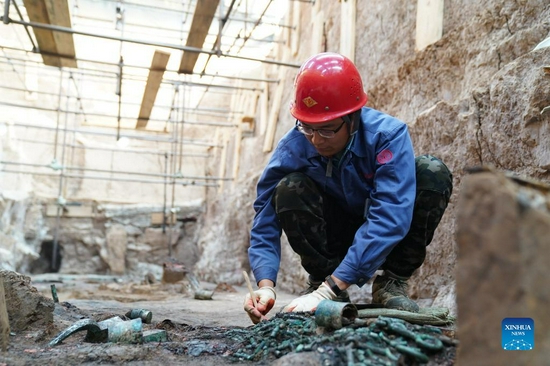 An archaeologist works at the mausoleum of Empress Dowager Bo, mother of Emperor Wendi of the Western Han Dynasty (202 BC-AD 25), in Jiangcun Village on the eastern outskirts of Xi'an, northwest China's Shaanxi Province on July 17, 2018. A large-scale mausoleum in Xi'an has been identified as belonging to Emperor Wendi of the Western Han Dynasty, local authorities said Tuesday. (Xinhua)。
However, archaeologists did not find any signs of construction in Fenghuangzui during their investigation and concluded that the area is nothing more than a naturally formed loess ridge.。
Emperor Wendi, with the personal name Liu Heng, was famous for his frugality and benevolence. Under his more than 20 years of rule, the dynasty's economy prospered while the population saw an expansion. Enditem。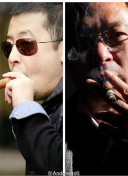 Chinese envoy discourages action that may escalate situation in Ukraine******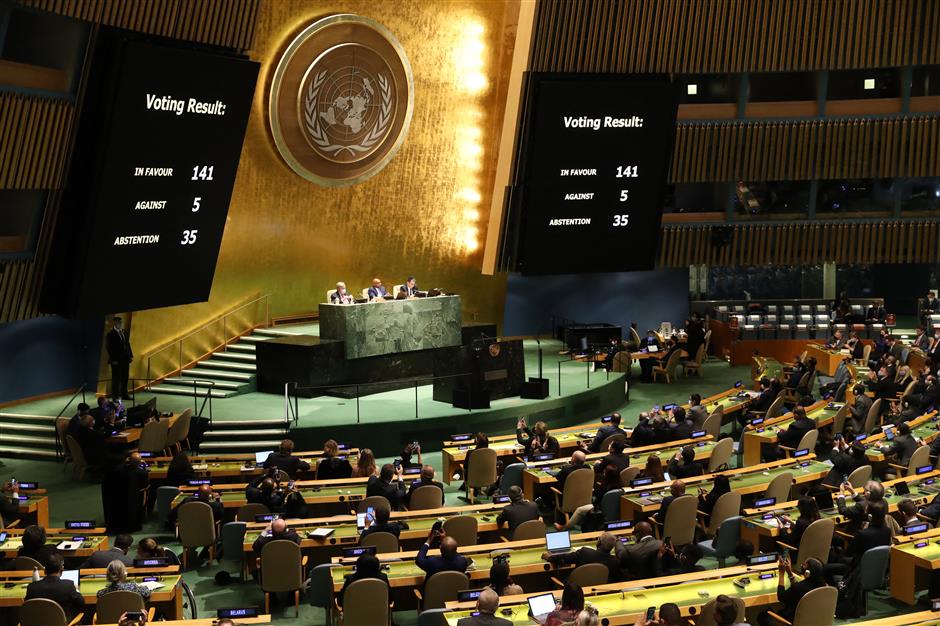 AFP
The results of a vote at the United Nations General Assembly are displayed on a screen during a special session on Ukraine issue on March 2, 2022, in New York City.
A Chinese envoy on Wednesday discouraged action that may escalate the situation in Ukraine.
"Blindly exerting pressure and imposing sanctions and creating division and confrontation will only further complicate the situation and result in a rapid negative spillover of the crisis, and affect even more countries," warned Zhang Jun, China's permanent representative to the United Nations.
"We call on the international community to take a responsible attitude, and promote the relevant parties to immediately return to the track of political settlement, and use dialogue and consultation to seek a comprehensive solution to the Ukraine issue," he said in an explanation of vote after the adoption of a resolution on Ukraine by the UN General Assembly.
Stressing that China is ready to continue its constructive role in this regard, Zhang said that China's basic position on the Ukraine issue is consistent and unequivocal.
China always believes that all countries' sovereignty and territorial integrity should be respected, and that international disputes should be resolved peacefully in accordance with the purposes and principles of the UN Charter. Any action by the United Nations and the relevant parties should give priority to regional peace and stability and the universal security of all parties, and should play a positive role in de-escalation and diplomatic solutions, Zhang said.
Regrettably, he added, the draft resolution had not undergone full consultations within the whole membership, nor did it take full consideration the history and complexity of the current crisis. It did not highlight the importance of the principle of indivisible security, or the urgency of promoting political settlement and stepping up diplomatic efforts. These are not in line with China's consistent positions. Therefore, China had no choice but to abstain.
The top priority right now is to ease the situation on the ground as much as possible, and prevent the situation from escalating or even getting out of control. Russia and Ukraine have already held their first round of negotiations. Despite their differences, both sides have shown willingness to continue the negotiations. China welcomes this, said Zhang.
Faced with the highly complex and sensitive situation, China once again calls on the international community to stick to the overall direction of political settlement and foster an enabling atmosphere and conditions for direct dialogues and negotiations between the parties concerned, he said.
The final settlement of the Ukraine crisis requires the abandonment of the Cold War mentality, the abandonment of the logic of ensuring one's own security at the expense of others' security, and the abandonment of the approach of seeking regional security by expanding military blocs. It is important to give full attention and respect to the legitimate security concerns of all countries, and on that basis conduct negotiations to put in place a balanced, effective and sustainable European security mechanism, he said.
【9号彩票-专业购彩平台👉👉十年信誉大平台,点击进入👉👉 打造国内最专业最具信赖的彩票平台,为您提供9号彩票-专业购彩平台用户登录全网最精准计划软件,APP下载登陆,强大的竞彩网上推荐!!】
汉中西乡有一名与西安确诊患者的密切接触者 已采取集中隔离措施******
  10月18日,西乡县新型冠状病毒感染的肺炎疫情防控应急指挥部办公室发布一则通告称,经查,西乡县有一名与西安确诊患者的密切接触者(已采取集中隔离措施),按照汉中市疫情防控指挥部要求,为进一步精准实施疫情防控,决定从10月18日晚21:00时起,对城北街道办前锋社区东兴花园小区15号楼D单元实施封闭管理,现通告如下:
  1、封闭管理本单元内所有住户,实施居家隔离措施。本单元人员只进不出,涉及物业服务、医疗服务、公共安全,生活保障等事宜,由社区予以保障。
  2、非本单元人员不得进入本单元,倡导小区内居民非必要不出户,做好个人防护,不聚集,不信谣不传谣。
  3、县疫情防控指挥部将根据疫情防控工作需要,适时调整管控政策并及时向社会公布,敬请关注西乡宣传、西乡融媒官方微信公众号,让我们共同遵守管控规定,全力巩固来之不易的抗疫成果,尽快回归正常生产生活。
  咨询电话:县疫情防控指挥部办公室 :0916-6224968
来源:二三里资讯
编辑:二三里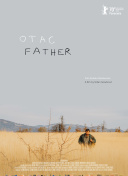 冷空气来袭!20******
  华商报新闻记者17日从省气象局获知,受较强冷空气危害,20日下午至22日,我国自北向南将发生降温、风大气温,20日陕西关中、陕南有降雨。
  21日陕北有寒流,日平均温度降低8~10℃,局部地区10℃之上,陕西关中北边有较强降温,日平均温度降低6~8℃,关东南部、陕南降低4~6℃;22日陕西关中、陕南仍有4℃以内的降温。最低温22日零晨陕北降至-12~-8℃,在其中榆林市北边局部地区降至-14℃上下,陕西关中、渭南降至-8~-5℃,23日零晨汉中市、健康降至-3~0℃;23日大白天温度逐渐回暖。
  20日陕北有5级上下偏北风,龙卷风6级之上;21日陕北有6级上下偏北风,龙卷风7~8级,陕西关中、陕南东部地区有5级上下偏北风,龙卷风6级之上。
  20日陕北南边、陕西关中、陕南中西部有毛毛雨,陕南东部地区有小到中雨,在其中秦巴山区、陕西关中西北部地区高原地区地域有雨夹雪或小倩。
  强冷空气到来前,气象要素不利空气污染物蔓延,关中平原将发生霾。
  陕西气象局特别提醒:
  本次全过程陕北降温力度大、最低温低;陕西关中、陕南以延续性降温为主导,最低温度发生在22日或23日零晨,且我省大部分有5级之上偏北风,陕北北边龙卷风风速达到8级之上。报请有关部门搞好相对应预防提前准备,降低风大、降温气温对农牧业、养殖业等的不良危害。
  降雨关键危害陕西关中、陕南地域,在其中秦岭山山区地带、陕西关中西北部地区高原地区地域有弱下雪,需尤其注意防范其致使的路面泥泞不堪、降雪结冻、低可见度等对度假旅游和交通流量的不良危害。
  提示群众高度关注气象局公布的全新预报预警信息信息内容,留意防冻保暖和安全出行。
  华商报新闻记者 毛蜜娜。
来源于:华商网-华商报。
编写:田媛。
贵州发生重大刑案,一31岁男子作案后逃逸 警方:已畏罪自杀
1.大花争艳!李冰冰姚晨红毯造型各有风情
2.举报中心
3.关店、缺货、无人,便利蜂还"便利"吗?
4.外媒继续关注我新型舰载机:光洁的令人难以置信